How to Install Reading App Builder
Installation and Setup instructions are also available in the Installation Instructions document, downloadable from the Documentation section of the Resources.
Installation
In order to run Reading App Builder, you need to have 3 components installed on your computer:
Reading App Builder (RAB)
Java SE Development Kit (JDK)
Android Software Development Kit (SDK)
Here are more details on installing each of these three components.
1. Installing Reading App Builder
Download and run the setup program to install Reading App Builder on your computer.
2. Installing Java SE Development Kit (JDK)
The latest version of the JDK is version 10, but you will need to use JDK version 8, not version 10.
Go to the Java SE Development Kit 8 Downloads page.
There are many download files on this page. You are looking for the download that corresponds to your computer's operating system.
Find the Windows x64 download if you are using 64-bit Windows.
Find the Windows x86 download if you are using 32-bit Windows. Very rarely needed.
You'll need to accept the License Agreement before you download.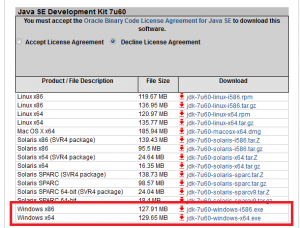 Since April 2019 you also need to register or provide you Oracle username and password. Registering is free.
When the file has downloaded, run it to install the JDK on your computer.
This will normally be installed into the C:\Program Files\Java folder.
3. Installing Android Software Development Kit (SDK)
To install the Android SDK, you need the basic Android command line tools rather than the full Android Studio installation.
The installation will be done in two steps:
A. Download and install the basic Android command line tools.
B. Download and install additional packages from within Reading App Builder.
A. Download and install the basic Android SDK tools
Do the following:
Go to the Android Studio web page: https://developer.android.com/studio
Scroll down to the bottom of the page, where you will find a section titled 'Command line tools only'. If you find the 'Android Studio downloads' section, scroll down a little further.
Download the latest sdk-tools package for Windows, e.g. sdk-tools-windows-4333796.zip. The file is around 149 MB.
Before downloading, you will need to click to confirm you agree with the terms and conditions.
When the file has downloaded, unzip it to a new folder on your computer, such as C:\sdk.
When the file is unzipped, the C:\sdk folder should contain a single sub-folder named 'tools'. You do not need to run any setup program here.
B. Download and install additional SDK packages
The Android SDK as it stands will not be sufficient to build an app. You need to download 3 additional packages:
Android SDK Build-tools (110 MB)
Android SDK Platform-tools (23 MB)
Android SDK Platform (101 MB)
To install these packages:
Launch Reading App Builder.
Select Tools > Settings from the main menu.
Go to the Android SDK tab, which is the second tab.
Enter the Android SDK Location by clicking Browse and navigating to the SDK folder which you have just created. If you followed the suggestion above, this will be c:\sdk.
If the Android SDK location is valid, you should see the version of the Tools package displayed in green.
Click Install Packages… to begin downloading and installing the three packages that are "Not Found" (Build tools, Platform tools and Platform API). You will need an internet connection.

Type y (for yes) followed by Enter to agree with the license agreement.

Depending on the speed of your internet connection the downloads might take some time. There are over 230 MB of files to download.

As each of the three packages are downloaded, you should see a series of messages, concluding with "…complete", "…finished" and "done".

If you get a message saying "Install… failed" or "Failed to read or create install properties file", this might be because:

the internet connection is not working, or
you do not have enough space on your hard disk.

If the installation of a package has failed, make sure you have an internet connection and enough hard disk space. Then click Install Packages again.

When all of the required packages have been installed, click Check Installation. A message will appear listing the packages that have been installed. You should see the version numbers displayed in green.
The Android SDK has now been installed for use by Reading App Builder.
How to build your first app
To build your first app with Reading App Builder, follow the instructions in the first chapter of the document Reading App Builder – 2 Building Apps.
Troubleshooting
When I try to launch Reading App Builder, I get the message "Could not find the main class… Program will exit".
This might be because your computer is running an older version of the Java Runtime Environment (JRE). Reading App Builder requires at least Java 8. Earlier versions of Java are no longer being supported, so it is a good idea to upgrade your Java installation for security reasons.
You can find the download here: https://www.java.com/en/download