Notebook
The Notebook area provides a place to store cultural and other research notes. It helps document, categorize, retrieve, analyze, and summarize conclusions about your notes.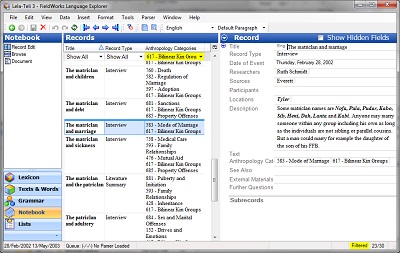 In the screenshot above, the actual transcription of the interview could be entered in the Text field, and would then be available in the Texts & Words area for interlinearization and concordance searches.




Similarly, you can fill in a few Record fields in the Info tab of a Text and this creates a Record in the Notebook area.
In the Anthropology Categories field in both Lexicon Edit and Record Edit, there are right-click menu items
which filter for the selected category in the view of your choice.
In FieldWorks 6 and earlier, the Notebook was provided in a separate program, called Data Notebook.