Nuosu SIL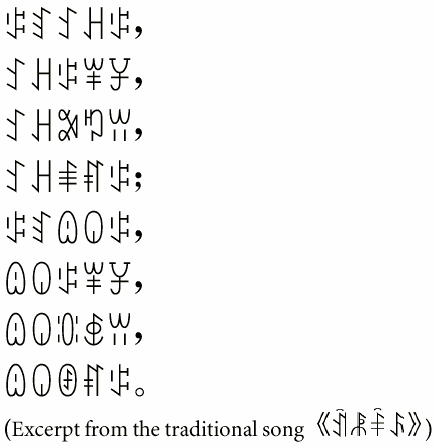 About
Nuosu SIL is a single Unicode font for the standardized Yi script used by a large ethnic group in southwestern China. Until this version, the font was called SIL Yi.
The traditional Yi scripts have been in use for centuries, and have a tremendous number of local variants. The script was standardized in the 1970's by the Chinese government. In the process of standardization, 820 symbols from the traditional scripts of the Liangshan region were chosen to form a syllabary.
The syllable inventory of a speech variety from Xide County, Sichuan was used as the phonological basis for standardization. For the most part there is one symbol per phonologically-distinct syllable and vice-versa. The direction of writing and reading was standardized as left-to-right. Punctuation symbols were borrowed from Chinese, and a diacritic was incorporated into the system to mark one of the tones.
Character inventory
Nuosu SIL includes a complete set of Yi syllables and radicals as defined in the Unicode Standard, plus a basic set of Latin characters and punctuation. Yi radicals which were added to Unicode 3.2 (U+A4A2..U+A4A3, U+A4B4, U+A4C1, U+A4C5) are also included in the font. Representative samples:


Requirements
Nuosu SIL is designed to work on systems and with applications that provide support for TrueType fonts and for Unicode character encoding. It does not include any smart font behavior.
Keyboarding
This font can be used with any preferred Yi Unicode keyboard. The SIL Yi keyboard is also available; however, it does not provide keystrokes for the Yi Radicals which were added to Unicode 3.2 (U+A4A2..U+A4A3, U+A4B4, U+A4C1, U+A4C5).
Downloads
License
These fonts are licensed under the SIL Open Font License (OFL).

Font
"Nuosu SIL source files" contains the same files as "Nuosu SIL" – plus the source files for creating the font.
This font is also available in the SIL software repository for Ubuntu. Users can subscribe to this software repository and get current versions and updates automatically.
Release history
2009-07-09 – Version 2.1.1 released (renamed Nuosu SIL)
2007-04-19 – Version 1.2 released under the OFL
2002-09-01 – Keyman keyboard released
2000-04-10 – Version 1.1 released
Previous versions
"SIL Yi source files" contains the same files as "SIL Yi" – plus the Fontographer, Keyman and User's Guide source files.
Support
As these fonts and utilities are distributed at no cost, we are unable to provide a commercial level of personal technical support. We will, however, try to resolve problems that are reported to us.
We do hope that you will report problems so they can be addressed in future releases. Even if you are not having any specific problems, but have an idea on how this system could be improved, we want to hear your ideas and suggestions.
Please note that these fonts are intended for use by experienced computer users. Installing and using these fonts is not a trivial matter. The most effective technical support is usually provided by an experienced computer user who can personally sit down with you at your computer to troubleshoot the problem.
Contact
General troubleshooting information, including frequently asked questions, can be found in the documentation. Additional information is also available on the general Font FAQ page. If that fails to answer your question, send an email via this contact form.
Before requesting technical support, please:
Carefully read all the documentation provided with the font and on this site.
Try the Support and Troubleshooting path on scripts.sil.org.
Language Software Community

Support from other software users may be available through the SIL Language Software Community. This community will be growing to become the major source of software support.
If that fails to answer your question, or you have a bug report, feature suggestion, or need help using the software, please contact us using the form below.
---