Features
How can it help me?
Use it to try out different layouts, text sizes, verse numbering systems, etc. to find out what the community likes so that the final professionally typeset product will be something that the community loves. After all they are very unlikely to get a second typesetting. Use it for UNS testing printouts. Use it for checking the impact of adding illustrations. Use it to produce diglots with the national language alongside the vernacular. You have complete control!
Rapidly create scripture PDFs for quality trial publications

Simplicity for novices, and Power for advanced users
The PTXprint interface has three modes of operating, which can easily be switched between as required in each situation.
Mini View allows a novice to choose the project, which book(s) and a some basic settings, like paper size and the font.
Basic View should be adequate for most users and reveals many additional settings to control a wide variety of options.
Full View allows advanced users to access all the remaining controls which can be adjusted in order to improve the appearance of the PDF output.

Basic Features
Prints scripture from any (non-resource) Paratext project's USFM files or DBL bundle
Configurable page sizes, margins, columns, fonts, and spacing
Tooltips available on every option with context-specific help
Easy to alter Styles/Markers using built-in Style editor
Automated chapter-verse aligned Diglots
Complete control over footnotes and cross-references
Various glossary markup options
All these features and dozens more can easily be enabled as needed, and settings adjusted to meet your specific requirements. The resulting PDF is regenerated within seconds. See samples in the Gallery. 
Handling illustrations with ease
Multiple options for handling illustrations including image quality, precise positioning on page, mirroring and scaling
Tool for helping keep track of the appropriateness of illustrations used in different publications
Pictures in peripheral books (INT, BAK, GLO etc.) can be precisely controlled like any other pictures in the text
Can overlay image credits on pictures (specifically to comply with David C Cook image use requirements)
Colophon included with appropriate Illustration Credits generated automatically (even in different languages)
Layout options
On-grid column balancing (back-to-back registration of text)
Can mix single and double column layouts for different books in the same publication
Flexible book order, for example to allow NT Books+PSA+PRO+Glossary
Combines multiple scripture books into a single output PDF
Marginal verse support
Decorative borders and other textual embellishments
Automatic Index/Thumb Tabs
Can produce interlinear word-for-word glossed output using Paratext's interlinear data
Advanced options for making page adjustments using Paragraph Adjust Lists
Peripheral materials
Automatically generated Table of Contents
Introductory Front matter and Back matter (such as Glossary and Index books can be included)
Introductory outline formatting
Filtered Glossary option (only show glossary entries for books in publication)
Glossary entries can be included in the footnote area for assisting with comprehension testing
External lists of localized cross-references can be incorporated without affecting USFM text.
DBL scripture text bundles can be downloaded and installed by PTXprint – particularly useful for diglot scriptures
Extended Script Support
Left-to-Right, Right-to-Left as well as Top-to-Bottom LTR text flows are supported
Complete Graphite Writing System support
Font Features are supported and enabled through a graphical interface
Numbers and digits in any Unicode-compliant script
Fallback font for characters missing in primary font
Advanced character spacing for better control to shrink and grow paragraphs
Supports ruby glossing for CJK languages

C

o

l

o

u

r

in text (which could be used to mark

the words of Jesus

in red, for example)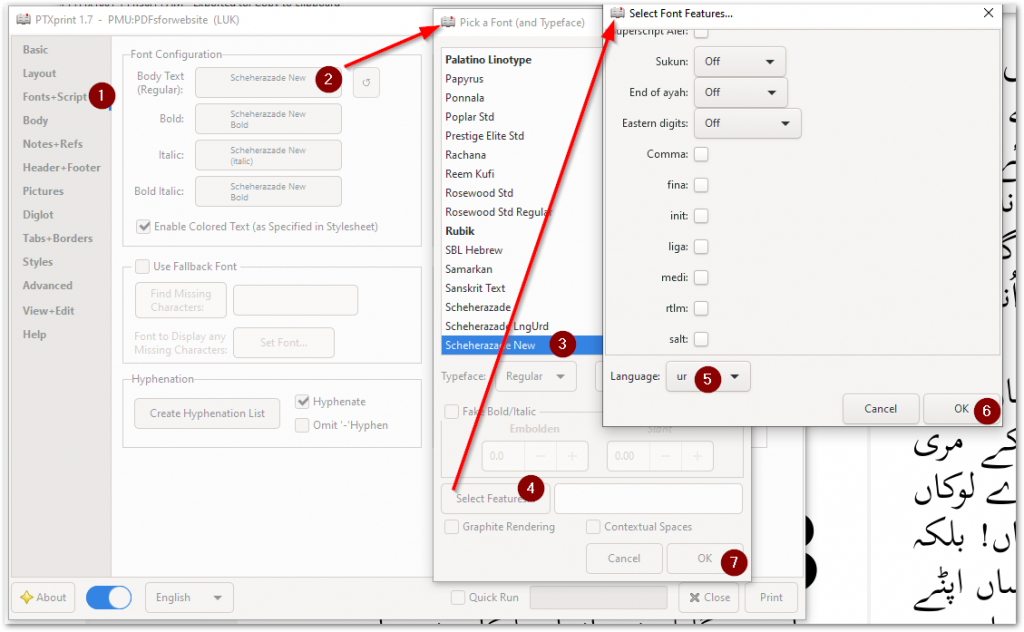 Sharing and Archiving
Configuration settings can be saved and shared with other users via Paratext's Send/Recv
Produces output compliant with PDF/X-1a:2003 standard
Jobs can be archived (along with all supporting files) in order to be able to reproduce the exact same output at a later time even on a different operating system
Other features
Support for pre-processing USFM data using external scripts
Allows custom XeTeX code to be applied
Builds on existing cascading stylesheets with an easy to use Style editor
Watermarks can be applied to indicate DRAFT content if needed
Guides and/or grid can be shown to assist precise measurements when setting up
Built-in Context-specific Help
There is no user guide for PTXprint. Practically all the help you need is contained in the extensive Tooltip system. Just hover over an option to get an explanation about what that control does.

User Interface Languages
PTXprint has been localized into French, Spanish and Indonesian. Our hope is that several more major languages (including Chinese, Arabic and Romanian) will soon be added. If you would like to contribute to the development of the User Interface in other languages, then join the effort at Crowdin.
Warning
Please note that typesetting for formal publication is far more complex than just producing high quality PDFs using this tool. PTXprint is primarily aimed at field-based translators who need to be able to produce decent printouts for local use and is not intended to replace experienced typesetters who use even more sophisticated tools with greater control over the end product. They have an eye for detail and have to follow strict publication guidelines before texts can be approved for publishing. Typesetting is as much an art as it is a science, and years of experience can't be replaced by a tool like this. Even so, the sky is the limit as to what you can produce yourself with PTXprint. Take a look at the samples in the Gallery and be inspired to be creative!