SayMore 0.5 Now Available
We've just released version 0.5 of SayMore.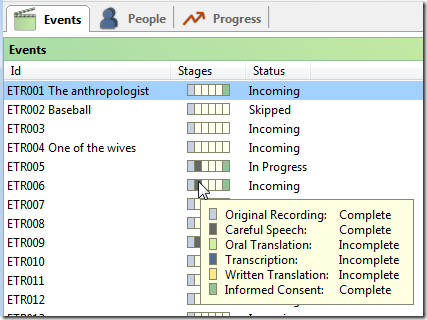 As with all odd-valued releases, we assume this is beta-quality. Please download it here, and let us know your experiences with it, good or bad.
Here are major changes:
When you correct the spelling of a person's name, the name is also updated in all events where he/she is listed as a participant.
The People list now gives an indication of the Informed Consent status of each person. You get a warning icon if there is no consent file, and different icons for photograph, audio and video consent files.
Events now have a "Status" value, which you set. Currently, the choices are "Incoming", "In Progress", "Finished", and "Skip". The later is for events which you don't plan to work with or publish.
The list of Events now displays information about the workflow status in the "Stages" column. As you add files to the event and name them appropriately (using the Rename menu), SayMore detects them and indicates their presence in the stages icon.
You can now select participants for an event by ticking the boxes next to their names.
You can now set the mug shot of a person by dragging the photo file onto the mug shot place-holder.
Videos are now shown with a preview image, rather than a black rectangle, when not playing.