Scripture App Builder 1.4 Released
Scripture App Builder 1.4 has been released.
This new version includes:
Contents Menu:

An optional user-friendly home screen menu to help the user find books, stories and sections.
Add items with title, optional subtitle, image and reference link.
Add sub-menus by adding additional screens.
Import/export contents menus between different apps.
Update item title from Scripture reference. Example: if the target reference is Genesis 1, SAB looks for the section heading in the text above Genesis 1, e.g. "Creation".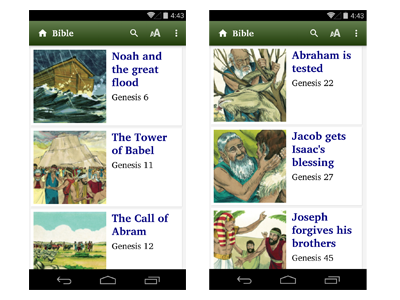 Automated Synchronization using aeneas:

A new wizard to launch aeneas – a tool to help you automate the synchronization of text and audio.
For some languages, aeneas will enable you to significantly reduce the time you take to create timing files for your audio recordings – from several weeks to a matter of hours!
Detailed instructions on how to install and run aeneas can be found in the Documentation.
SAB 1.4 also includes many more features and bug fixes. For more details please see the Release Notes.
Go to Download for the updated install program and Resources to access the documentation.