Scripture App Builder 3.0 Released
Scripture App Builder 3.0 has been released.
This new version includes:
Multiple book collections

Add two or more translations to the app.
Display in Single Pane, Two Pane or Verse-By-Verse layout.
User can configure the choice of translation and layout within the app.
For more details, please see the section 'Multiple Translations' in the Building Apps document.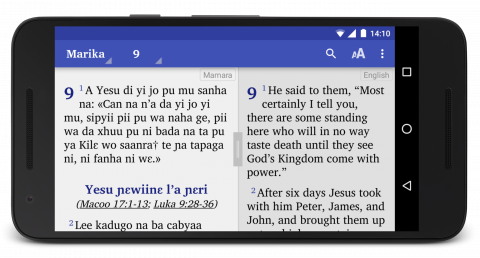 Settings screen

Allow the user of the app to configure the following settings:

Book selection type: list or grid
Red Letters: show the words of Jesus in red
Show Verse numbers
Verse layout: Verses in paragraphs or One verse per line.

Share app

Added optional 'Share App' item in the app menu.
Gives the app user the choice of:

Sharing a link to the app on Google Play, or
Sending the APK file to another phone via Bluetooth, Wifi transfer, email, etc.
For more details about all the enhancements and fixes in SAB 3.0 please see the Release Notes.
Go to Download for the updated install program and Resources to access the documentation.