Shimenkan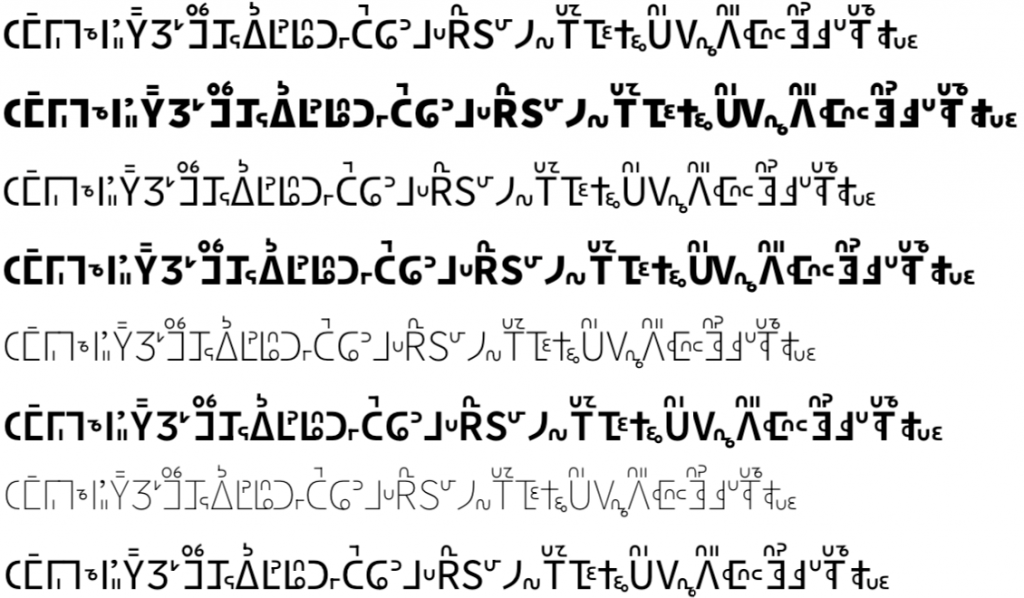 About
The Shimenkan family of fonts supports the broad variety of writing systems that use the Miao (Pollard)1 script. Eight language-specific font families are part of the project, each reflecting the particular preferences of that language community.
Salaowu – for Wuding-Luquan Yi / Hei Yi / Nasu [ywqa]
Sapushan – for Large Flowery Miao / Dahua Miao / A-Hmao [hmd]
Shimenkan Guifan – alternate for Large Flowery Miao using the Normalised Miao orthography [hmdd]
Shimenkan GSM – for Gepo / Bai Yi [ygp]
Shimenkan MAS – for Small Flowery Miao / Xiaohua Miao [sfm]
Shimenkan MGS – for Sinicized Miao / Waishu Miao / Hmong Shua [hmz]
Shimenkan Zonghe – for Aluo / Gan Yi [yna]
Taogu – for Lipo / Dong Lisu [lpo]
The font family named simply Shimenkan supports all languages through language-specific OpenType features.
A helpful PDF document entitled "Using the Fonts" is included in each download package. It can also be downloaded here.
Downloads
License
This font is licensed under the SIL Open Font License (OFL).
Fonts
Packages in .tar.xz format, as well as full source files, are available from the GitHub releases page.
---
1 The Miao block was first added to Unicode 6.1 and subsequently amended up through Unicode 12.0. See the latest code chart.
Support
As these fonts and utilities are distributed at no cost, we are unable to provide a commercial level of personal technical support. We will, however, try to resolve problems that are reported to us.
We do hope that you will report problems so they can be addressed in future releases. Even if you are not having any specific problems, but have an idea on how this system could be improved, we want to hear your ideas and suggestions.
Please note that these fonts are intended for use by experienced computer users. Installing and using these fonts is not a trivial matter. The most effective technical support is usually provided by an experienced computer user who can personally sit down with you at your computer to troubleshoot the problem.
Contact
General troubleshooting information, including frequently asked questions, can be found in the documentation. Additional information is also available on the general Font FAQ page. If that fails to answer your question, send an email via this contact form.
Before requesting technical support, please:
Carefully read all the documentation provided with the font and on this site.
Try the Support and Troubleshooting path on scripts.sil.org.
Language Software Community

Support from other software users may be available through the SIL Language Software Community. This community will be growing to become the major source of software support.
If that fails to answer your question, or you have a bug report, feature suggestion, or need help using the software, please contact us using the form below.
---