The Combine
About
The Combine is an easy-to-use tool for Rapid Word Collection (RWC)—a method of gathering words to serve as the backbone for a bilingual dictionary. At the heart of RWC are native speakers from a language community who, considering one semantic domain at a time, provide all words they can think of in their language related to that domain.
The Combine facilitates collection of these words, along with translations, audio recordings, and notes, to more fully capture their form and meaning. Additionally, gathered words can be organized and edited within The Combine before exporting the data for use in other tools such as FieldWorks (FLEx).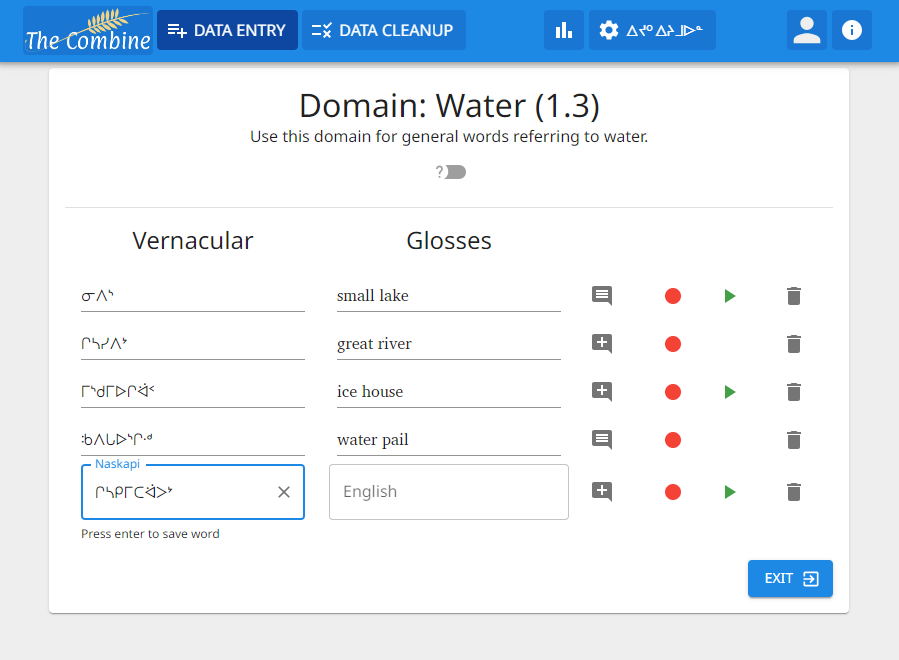 Rapid Word Collection Method
Learn more about the Rapid Word Collection method!
Downloads
The Combine is available as a web app (no separate download). If you need the ability to collect words offline, please contact us.
Support
Documentation
Instructions and documentation for using The Combine are available on The Combine's documentation page.
Webinar
Check out the September 2023 webinar Rapid Word Collection using the Combine for more info about RWC (20 minutes) and The Combine (25 minutes), followed by Q&A (25 minutes).
Help and Feedback
To submit feedback or report a problem, please create a new issue on our GitHub page:

Contact
If you have other questions/feedback about using The Combine, please contact us.