Integrated Tools
Combining forces with Language Explorer (FLEx)
Unleash the power of FieldWorks by using Translation Editor in tandem with FLEx!
Include Scripture in FLEx to use the interlinear, discourse, concordance, and word list tools on Scripture passages. Work on the back translation in either tool – it's the same data!
The vernacular scripture text appears as the baseline in FLEx's interlinear view. The back translation is automatically displayed and editable in the Free line
Without leaving Translation Editor, you can use Find in Dictionary on the Tools menu to look up words in your FLEx lexicon and see relevant dictionary entries: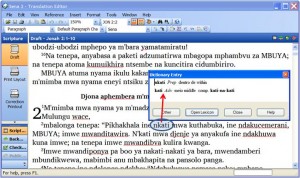 Two dictionary entries are displayed here as potential matches for the word nkati.
When a dictionary entry is being displayed in Translation Editor, as shown above, you can use the "Open lexicon" button to launch FLEx to view or edit the complete lexical entry. FLEx opens displaying the relevant entry in an editable view.
Find related words
If the lexical entries in your FLEx lexicon have been categorized with semantic domains or linked with lexical relations, FieldWorks is able to use this information to display potentially related words in Translation Editor. In Translation Editor, position the cursor in a word in the draft translation (e.g Licht). Use Tools…Find Related Words. All lexical entries which are in the same semantic domain(s) as the lexical entry which corresponds to the current word (Licht) are displayed.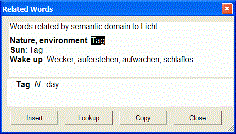 You can view the dictionary entry of each related word listed. To do this, click on a related word. The Lookup button finds the related words for the selected word ('Tag' above).