FAQ
A: If has been a while since you last updated PTXprint, it will definitely be worth your time to visit this page to catch up on developments. Several of the topics mentioned on the page have links to step by step How To… pages.
---
Q: Where is the training material for PTXprint located?
A: You can watch a presentation on what is possible in this overview slideshow, and if you need ideas on how to achieve some of the more complicated layouts, this follow-up presentation should help. Both of these are also accessible on the EMDC website: Overview and Details. Note that the What's new page has links to short How to… pages for some of the more complicated tasks.
---
Q: Does Paratext need to be running for PTXprint to be used?
A: No, it makes no difference whether Paratext is open or not. PTXprint is Paratext-aware, but not dependent on it. It accesses the USFM and settings files independently to produce the PDF output. It is assumed that the integrity of the data has been checked in Paratext (preferably version 8 or 9), but PTXprint will work even without Paratext installed.
---
Q: Why don't I get any pictures? Even though I have checked the option to include Pictures, I don't see any pictures in my PDF.
A: There are many reasons that this could happen, but the most common reason is that "Include Pictures" has not been checked. If after checking (enabling) that option and still nothing appears in the table for the Picture List (or PicList for short), then click on the Generate… button to create the list of illustrations to be used (as seen in the screenshot of the next FAQ). The list is generated from \fig … \fig* markup in your Paratext USFM scripture files. If you haven't specified any illustrations in Paratext, then you won't see any pictures listed here either. [You can add images here one at a time, but it isn't recommended.]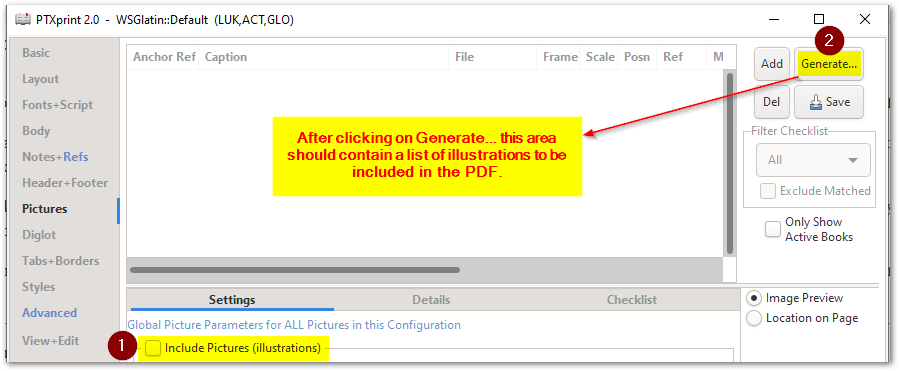 ---
Q: How can I make the Captions for my illustrations look different to the main text?
A: These kinds of changes are easily made by adjusting at style settings for the caption. The easiest way to get to the appropriate style is to start on the Pictures page, and click on the \fig link at the end of the Caption box: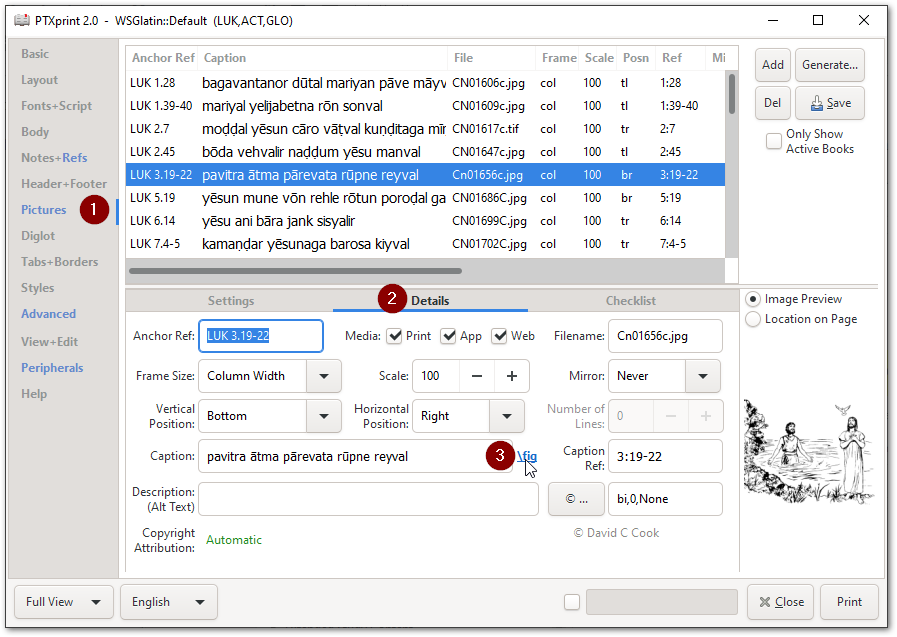 This should take you right to the \fig marker settings on the Styles tab where you can make the appropriate changes as shown below: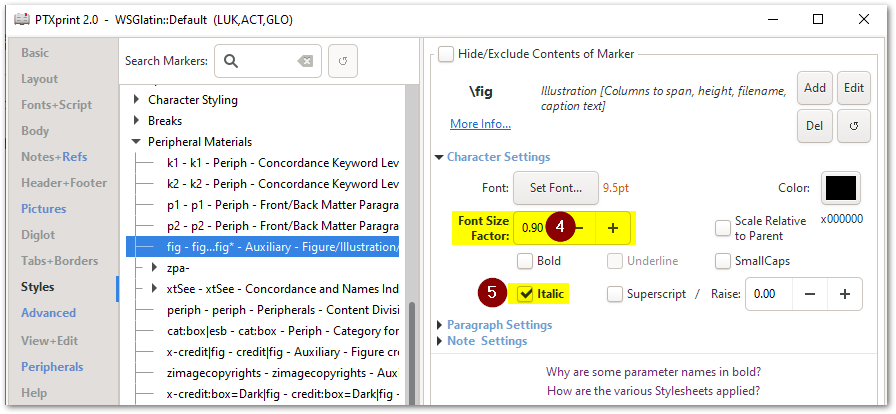 ---
Q: Which scripts does PTXprint support? 
A: In theory all the known writing systems encoded in Unicode are supported. This includes the following scripts: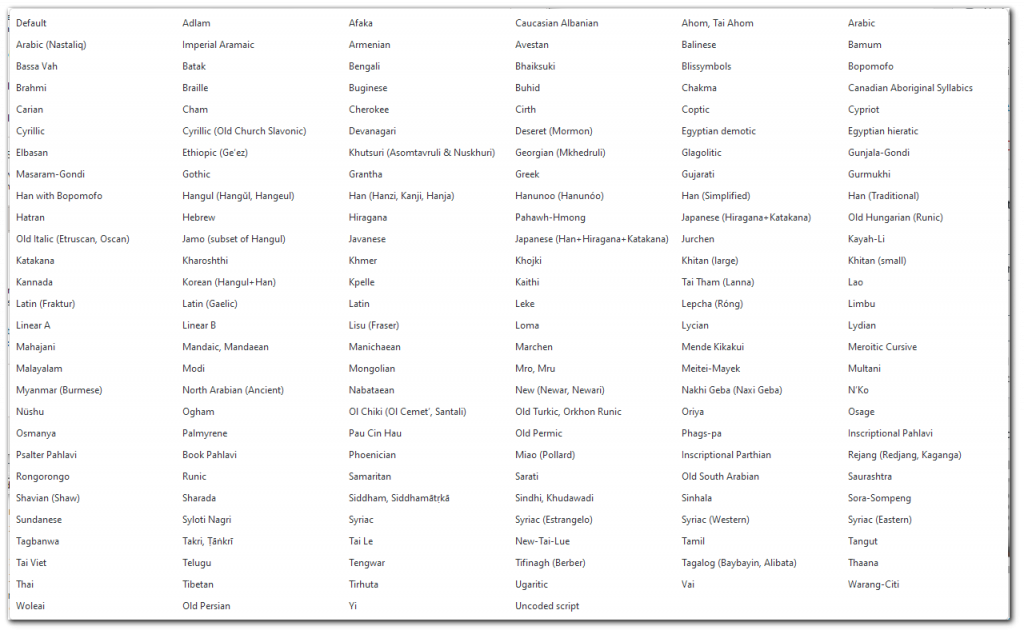 ---
Q: Why does the amount of blank space at the bottom of each page vary so greatly? 
A: The typesetting engine, TeX, works very hard to avoid widows (one line of a paragraph left alone at the end of a page) and orphans (a single line at the start of a page from the final paragraph of the previous page). In 2-column mode, it also places a very high value on 'balancing' the columns of text so they contain the same number of lines, to look neat. Often these two values clash resulting in a large amount of blank space at the end of a page (to prevent widows and orphans, while still balancing the columns). A third complicating factor is that certain parts of scripture need to be kept together. For example, a section heading \s, its following parallel passage references \r and the first 2 lines of the paragraph \p all need to stay together in a group. This results in situations where the whole chunk needs to move onto the next page resulting in a large space on the previous page. 
There are some options which will help reduce or eliminate these large spaces:
a) On the Layout page, near the top right corner is an option to allow Unbalanced lines. Set this value to 2 or 3 (or greater) if you don't mind columns not balancing. This will reduce the number of places that there are large gaps at the end of pages.
b) If you require columns to remain balanced, you can try balancing the page manually (while leaving the above-mentioned setting at 0). You can help TeX balance columns by using an Adjust List file to shrink or stretch paragraphs on the page. This is done by editing the Adjust List for the book being typeset which is accessible from the bottom right of the Fonts+Script page. The button takes you to an editable window on the Advanced page, where an Adjust List of hints can be generated, for you to edit. Often, stretching one of the paragraphs on the page by just one extra line enables several lines to reflow and fill the huge gap. Things to remember when thinking about balancing pages:
Footnotes and figures are anchored to the line in which they occur, so moving such a line across a page boundary moves the other stuff with it.

TeX is a good Christian, it will avoid creating widows or orphans, so if you have 3 lines left of a paragraph on a next page, you can't pull 2 back across.

Headings also take the first two lines of the following paragraph with them, for reason 2.

For every line you take from column 2 to column 1, TeX needs to pull

*exactly*

2 lines from the next page, in such a way that it doesn't leave a single orphan line on that page.
Probably, if you mentally apply those rules to a particular page break you will be able to work out why TeX broke the page there. Then you can adjust a previous paragraph to perhaps make it longer and thus to only need to pull one line across and one from the next page, and so on.
There are a couple of training videos now available covering this topic in detail. They explain in detail how to finalize the layout using either:
One warning. Only start addressing page breaking once everything else about your layout is exactly as you want it in terms of headers and footers, point size and spacing, styles, pictures, etc. Otherwise if you change anything after that, you will almost inevitable have to go through and fix page breaks later.
---
Q: Why can't I change the font size or the line spacing for the main paragraph \p marker? I can see it, but it is disabled and grayed out, so I can't change it.
A: This is because the \p marker is special and foundational for all the other markers. The place to change (underlying) Base Font Size and Base Line Spacing is on the Layout page as shown here (below). All other markers' font sizes will update accordingly, relative to the Base Font Size, so there is no need to update them manually.

---
Q: Can I get the books to print in a different order? If so, where do I specify that?
A: Yes, you can use modify the order of books by typing them into the option shown here:


---
Q: Can I get the header to display the book and reference range in another language or script? If so, how do I do that?
A: Yes, you can use the \h1 code for the 2nd language/script book name and then modify the header settings. It is a little bit more complicated than just clicking a few options, but the process has been documented in more detail in this GitHub issue.

---
Q: This is what I need to do on a regular basis: produce PDFs that easily incorporate the key terms as footnotes so that when we're doing comprehension checking we're also checking the study aids. Does PTXprint do that?
A: Yes it does (provided that you have used Paratext's standard glossary markup). Just select the option "Show All Glossary Entries as Footnotes" located on the Notes+Refs tab.
---
Q: How can I put credit overlays on my illustrations to comply with copyright and usage requirements?
A: There is a button on the Pictures tab, under the Details section. Use that as described in the image below: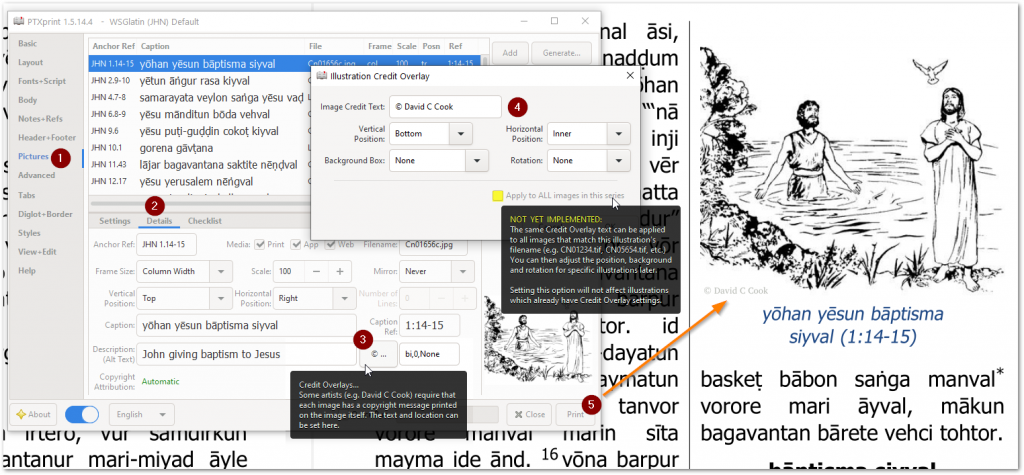 For more in-depth and technical information, please refer to this page (ptx2pdf-faq) on GitHub