Art of Reading Comes to WeSay
Illustrations always cheer up an otherwise drab dictionary. Until now, you had to put in a lot of work to find or create illustrations, get the rights to them, and hook them into your dictionary. With the latest release of our 0.5 line (build 1917), adding illustrations is a lot more fun.
First, let's have a visual tour of the new feature. Then I'll explain about "Art Of Reading".
To add an illustration, you just go to the Picture field and click Search Gallery…: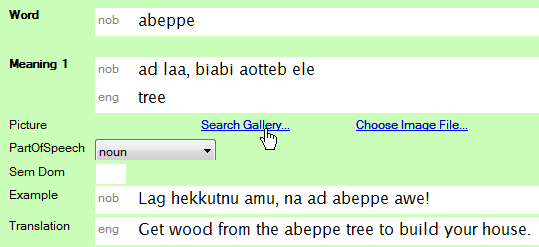 (Notice that the old "Choose Image File…" is still there. Eventually, we should make that button hidden by default, as it violates our desire to not send the WeSay user into the confusing depths of the file system.)
WeSay looks in the English meaning and uses it to search the gallery for matching illustrations: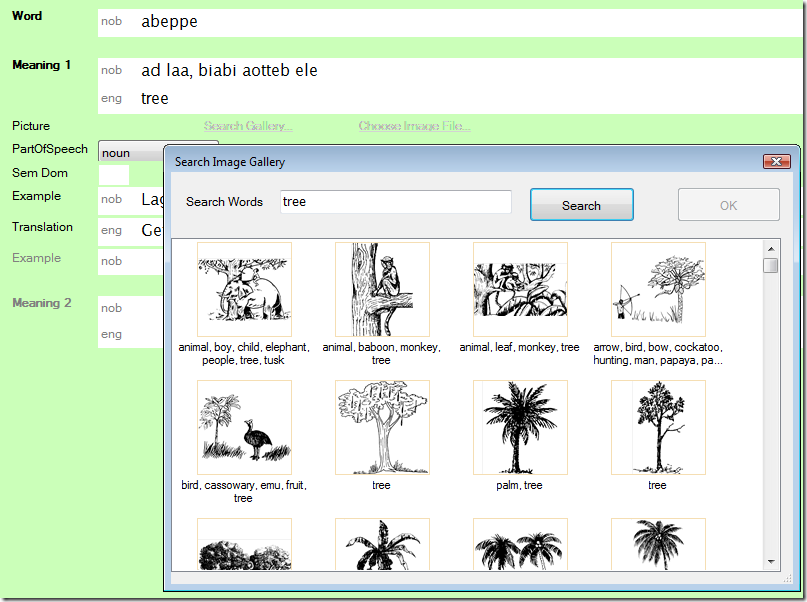 If that doesn't show you the pictures you're looking for, you can change the search terms and try again. Once you find the one you want, you double click on it. This closes the dialog and inserts the illustration: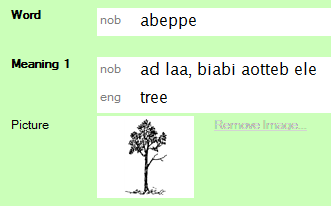 Update Jan 2012 For Windows users, Art of Reading is now available as a free download. SIL International has licensed them under a Creative Commons license and we've embedded that license and copyright information in the image files themselves, so that future versions of WeSay will be able to tell you where the image came from and assure you that you have the rights to use it.
Art of Reading 2.0 is a CD put out by SIL; ask around, someone near you may already have it. If not, you can order it here. From that page:
International Illustrations is the second artwork CD-ROM produced by the International Literacy Department of SIL International. This expanded, enhanced collection is the follow-up to Art of Reading 1.0 and contains over 11,000 indexed images collected from SIL and national artists around the world. Searchable by keywords.

Black and white line drawings (in compressed TIF format for Windows and Mac) are suitable for use in a wide variety of literacy materials, newsletters, bulletin board displays, and other cultural awareness materials.

Images come from Brazil, Cambodia, Cameroon, Canada, Colombia, D.R. of Congo, India, Indonesia, Kenya, Mexico, Nigeria, Papua New Guinea, Peru, Philippines, Senegal, Sudan, Thailand, USA
I'm told there's a version 3 in the works, which will be a DVD with even more illustrations and an Indonesian index.
Update Sept 2009: The Version 3 DVD is now available. Note, though the product is advertised for Windows and Mac, it will work on Linux too, if you're using WeSay.
Update Nov 2009: I'm told this new AOR version doesn't actually add any new photos… it's mostly about a new version of the browsing software (which WeSay doesn't use) and the addition of an Indonesian index (which WeSay already has). If that's true, there's no reason to upgrade if you're only using AOR for WeSay.
If/when anyone produces indices for French, Spanish, Portuguese, etc., tell us and we'll add them to WeSay, too. (I suspect you could use a computer translator to generate something useful quickly.) Notice, some of the description of how the package works is irrelevant. The included software is too unwieldy for a WeSay audience. WeSay bypasses that software, keeping the process as simple as you see above.
Get the latest WeSay here. As always, we rely on your feedback here on the blog, on the Google Group, or (if you have a problem) via email.
Thanks to René van den Berg for inspiring this new feature.
Technical Details
[Updated Nov 2009] To get started, you need to copy the images it to your hard drive. On Windows, WeSay will look for it at C:\Art of Reading. You don't need anything but the images folder, which would be at C:\Art Of Reading\Images. On Linux, you have 3 choices:

/usr/share/wesay/ArtOfReading/images
/usr/share/ArtOfReading/images
/var/share/ArtOfReading/images

I do not know if WeSay's index of this package works with Art Of Reading 1.0. It works with 2.0, and should work fine for with 3.0, though I don't have a copy of that yet to test.
If you have a different image library which you think would be widely used, let us know. It would be great to have one which could be downloaded for free.
This feature is the latest (and last) major addition to WeSay 0.5, our "development" release. Projects created or edited in 0.5 cannot be opened with WeSay 0.4, our "stable" release as of the date of this posting.